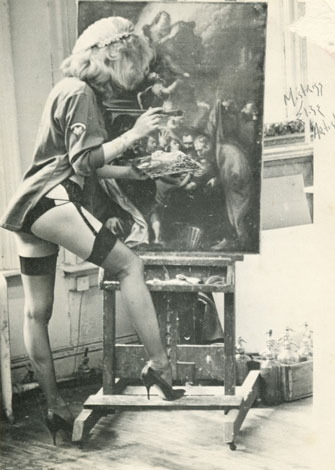 Here is what Gehres writes on the "Begging Naked" website (Click on "About" for info, and on the other links for Elise's Paintings):

I became friends with Elise Hill while working at a paint store in 1989. We were both artists and became best friends. It is that close friendship that made the filming of this difficult subject possible.

Elise had always wanted to write her autobiography. In 1996, I was given an internship at Film/Video Arts. Elise asked me to videotape her stories "for the record." I had full access to production equipment. It was during my time at F/VA that I began shooting "Begging Naked."

It began as a study of Elise's life. She wanted to tell her story of being a 15-year-old runaway to NYC, where a pimp quickly picked her up. She became a prostitute and heroin addict, all the while doing her artwork. Her dream was to go to art school. Eventually, when no whorehouse wanted her, as her "teeth were about to come out of her skull," she entered a rehab. Out of rehab, she put herself thru art school while selling her artwork on the street.

She was a street vendor outside the Metropolitan Museum of Art and in front of the Art Students League. When she decided to go back into stripping at age 30, the story went on an unpredictable course. Over the next 7 years, Mayor Giuliani wiped out the sex businesses on 42nd Street leaving Elise unemployed. Elise began to spiral mentally out of control, stopped paying rent and was eventually evicted. She now lives in Central Park.

All of these events have been documented in "Begging Naked." The events in Elise's life have dictated the 9 years of production. We experience, in front of our eyes, the very moment Elise becomes homeless. I believe this is one of the most important parts of the film. It unflinchingly shows how a person can end up on the street. They don't just sprout there. Everyone out there has a story.

"Begging Naked" brings up many issues simply because Elise lives them. Elise is homelessness. She is the relationship between sexuality, human fulfillment and identity. She is the runaway, the abused, and the mentally ill. Most importantly, she is the Artist.