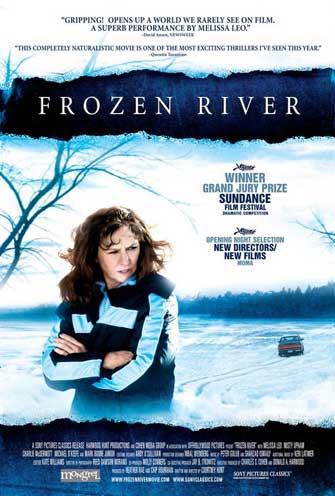 Upham is Lila Littlejohn, a Mohawk who works at the bingo hall and lives alone; her mother-in-law has "stolen" her 1-year-old. The two women meet after Lila finds the keys in Ray's husband's abandoned car and drives it away, and Ray follows her home: "That's my car." Lila says she knows a smuggler who will give her $2,000 for it, no questions asked. She knows a lot more than that, which is how Ray finds them both in the business of smuggling aliens across the border into the United States. This involves the two women making hazardous car trips across the ice of a frozen river, dealing with unsavory types on both sides, and carrying Chinese and Pakistanis in the trunk.

"Frozen River," a debut film written and directed by Courtney Hunt, never steps wrong. It resists all temptations to turn this plot into some kind of a thriller and keeps it grounded on the struggle for economic survival. The winner of the Grand Jury Prize at Sundance 2008, "Frozen River" is one of those rare independent films that knows precisely what it intends, and what the meaning of the story is.

Ray Eddy is a heroine in her life. She refuses all offers by her son T.J. (Charlie McDermott) to drop out of school and get a job. She begs for full-time work at the store. She never set out to smuggle humans (she's tricked into it), but once she gets into it, she finds it pays well. She has no particular feelings about the people in the car trunk and throws away the Pakistani's precious duffel bag because it "might contain poison gas, and I don't want to be responsible for that."

T.J. watches solemnly and knows the real story: His dad has run off on them, there is no food, he is responsible for his little brother, the men are coming to collect the TV set. For Lila, life is sad; she perches on a freezing night in a tree outside her mother-in-law's window for glimpses of her baby and shares Pringles with the watchdog. She has Ray count the money in all of their deals, because she's too nearsighted to see the bills.