By Roger Ebert / January 23, 2006
PARK CITY, Utah – Most of Ashley Judd 's biggest hits have been thrillers, but most of her very best work has been in closeup character studies. That was true of her first film, "Ruby in Paradise," and it's true again of "Come Early Morning," the story of a small-town woman whose pattern is to get drunk, sleep with a guy she picks up in a bar, and make a quick getaway the next morning.
But her character is not quite that simple. She also holds down an important desk job in a construction company, goes to church with her dad in hopes of getting closer to him, and is a good friend –- or girl friend, because no guy gets very close, until she meets a nice man played by Jeffrey Donovan.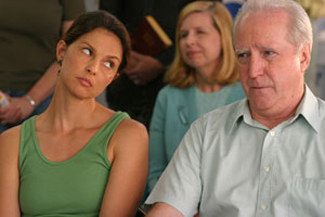 In a more conventional movie, she would learn to love him, and leave all her issues behind. "But I didn't want this movie to be about how all her problems are solved when she meets the right guy," Joey Lauren Adams told the audience at the Sundance premiere. Adams, an actress who works too rarely (she was wonderful in Kevin Smith's "Chasing Amy"), makes her directing debut with "Come Early Morning," and it has the assurance of a thoughtful filmmaker who knows her characters and how to tell their stories with no wrong steps or awkward moments.
We watch Lucy, the Ashley Judd character, and we sense how deep her problems are, and there is an answer somewhere in the shyness of her father (Scott Wilson), who sits alone and drinks and smokes and once played guitar good enough to go head-to-head with Chet Atkins, but never had the nerve to do it again