Elle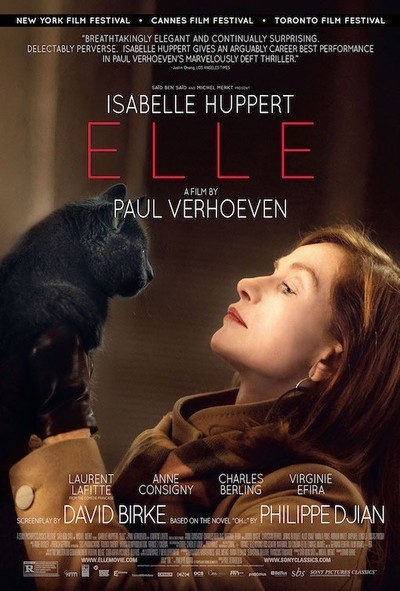 Perhaps only Paul Verhoeven would open a film mid-rape—the violent attack observed by an unimpressed green-eyed cat—and then follow up with a scene where Michèle, the rape victim, face puffy from the beating, picks up a phone and orders takeout, asking questions about the "holiday roll." She's not blasé about what happened. She's freaked out. She stuffs the dress she was wearing in the trash. She takes a bath, blood from her genital area staining the bubbles above. She does not call the police. Instead, she orders food. It's hard to picture this woman shedding a tear. Ever. The opening sequence of "Elle" is just the start of the demented and exhilarating experience that is this movie. "Elle" is a high-wire act without a net.
Based on the novel by Philippe Djian, adapted for the screen by David Birke (and then translated into French by Harold Manning), "Elle" is a maniacal and confident hybrid of various genres. It's a rape-revenge-ensemble-comedy-thriller-stalker mashup, if you can even picture that. But the film (with a couple of sick and twisted adjustments) is mostly reminiscent of the "women's pictures" of the 1930s and '40s, starring the shoulder-pad boss-bitches of Hollywood's Golden Age, dominant dames like Bette Davis, Joan Crawford and Barbara Stanwyck, whose characters were put through wringers involving snake-in-the-grass boyfriends/husbands, ungrateful children, career treachery. You can picture Barbara Stanwyck stuffing her dress in the trash, lighting a cigarette and then ordering takeout after being raped in the middle of her living room. You can't imagine any of those women, or Isabelle Huppert, who plays Michèle, going to a support group or therapy. They'll gut it out on their own.
The film is crowded with characters. Michèle has a lot going on: a slacker son (Jonas Bloquet) who has an abusive pregnant girlfriend, an ex-husband (Charles Berling) now dating a young yoga teacher, a bored sex fling with a married man, an elderly Botox-ed mother (Judith Magre) carrying on an affair with a gigolo, a pressing project at work (she co-owns a video game company), a handsome married neighbor (Laurent Lafitte) whom she stares at longingly from across the street, and a complex backstory not revealed until far into the film. This woman has too much to do to fall apart after the rape. But then she starts getting creepy texts from the unknown rapist: he knows where she is, what she's wearing. It could be anyone. Every man she knows is a suspect. She buys pepper spray (and, on impulse, a small axe) to protect herself. She says at one point, "Nut jobs I can handle. My specialty." You believe her. Maybe somewhere she always expected something like this, that horror would reach out its tentacles to find her again.
Verhoeven unbalances the existing tension of the "whodunit" aspect of "Elle" by giving us some pretty obvious clues early on. Verhoeven does not "bury the lede" because he's interested in things other than the plot cranking itself out to a "satisfying" conclusion. He's interested in the psychology and behavior of this particular woman. His camera follows her everywhere, like a stalker, like a lover. As in life, whether we want to admit it or not, those lines are often blurred. Every interaction, not just sexual and political, contains small jostles for power, position, dominance. Who's the "top"? Who's the "bottom" in any given moment? There are competing objectives in every conversation, each side maneuvering to get what they want. Jostling for power comes in many different forms, playing out in romantic relationships, office dynamics, even in a conversation with a group of friends where you have something to say and everyone is too busy talking to give you "the floor." "Elle" is a dissertation on power dynamics.
Verhoeven's approach is, unsurprisingly, extremely provocative. Michèle is a woman in her early 50s, and her sexuality surges around inside her, seeking expression. It leads her into some pretty dark stuff. In real life, sex doesn't progress in a checklist of approved behaviors happening in the proper order. Sometimes people are drawn to danger, to risk. Rape fantasies are so common as to be mundane. The current view is that consent in sex is a cut-and-dry thing. Either you consent, or you don't. There is no doubt that the rape in "Elle" is horrifying. Verhoeven does not eroticize it. The rapist wipes the blood from Michele's vagina off of his hip bone as he gets up off of her. But later in the film, when Michèle does consent to sex, enthusiastically, watch how her lover is unnerved by a woman who wants it, who doesn't have to be talked into it. He's almost turned off by her sexual agency. And that, ultimately, is the most cutting observation in "Elle," and Verhoeven's aim is accurate and deadly. Men not knowing what to do with a woman who wants sex and knows how she wants it, men needing to be the "top," always, threatened by a woman taking the "top" role (not in sexual positions, but in attitude) ... well. These issues have been with us from the beginning of time, and won't be solved overnight. But "Elle" is one of the smartest films about consent I've ever seen.
Isabelle Huppert does not make even an unconscious bid for our sympathy. She never has, throughout her lengthy career and it is one of the things that distinguishes her from other actresses. Even very talented actresses want to make sure that we "understand" why the character does what she does. Huppert doesn't care. She's completely beyond those concerns. It's why she's so thrilling to watch and why she is in such rare company (Anna Magnani, Liv Ullmann, Gena Rowlands, Bette Davis, Barbara Stanwyck, Joan Crawford... it's a short list). There's always some element of mystery left intact in Huppert's work. Huppert can be frighteningly blank ("The Piano Teacher," "La Cérémonie"), she can be human and flawed ("Amour," and the upcoming "Things to Come"). In "Elle" she gets to be funny, and it's such a joy to watch! It's effortless for her. She's funny in her line-readings ("Bimbos with big tits never worried me, but the girl who's read 'The Second Sex' will chew you up..."), in her gestures and expressions. You cannot take your eyes off of her. Neither can Verhoeven. In a Q&A following the public screening at the New York Film Festival, Verhoeven described Huppert (also in attendance) as "unique in the world." She is.
Watching "Elle" feels like climbing Everest without an oxygen tank. The air is dizzyingly clear up there. And dangerous, too.