By Roger Ebert / November 19, 2008
Hold me, and make it the truth...
That when all is lost there will be you.
Cause to the universe I don't mean a thing
And there's just one word that I still believe and it's
Love... love. love. love. love.
--"Love Boat Captain," Pearl Jam
"Song Sung Blue" tells a love story about two people who are apart only three days after 1989, who love each other in good times and in bad, and whose romance blossoms in shabby bars, smoky clubs and, once, in front of 30,000 people. Their names are Mike and Claire Sardina. If you're from Milwaukee, you oughta know them. They performed under the name "Lightning & Thunder," and were famous enough locally that they sold out their bookings. When they had troubles it made every local TV news show. And they had troubles. Who else do you know who had two out-of-control cars run into their house in four years?
Because they made a lot of home videos, their earliest days together are recorded. We even see them performing at the Wisconsin State Fair, and being married after the ceremony with 700 (Thunder) or 1,000 (Lightning) guests. His proposal was made over the phone: "This is Lightning. Will you be my Thunder?"
Their act was built around Mike's covers of Neil Diamond songs, and Claire doing Patsy Cline, Abba and Blondie material. I know, but they were good. Close your eyes and with Mike you almost think you're hearing the real thing. Mike was standing behind a red velvet crowd control rope once at a Neil Diamond concert, "and when he walked by, he looked at me, and it was like he was looking in a mirror."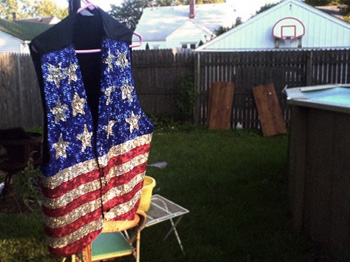 There's one session in a jam-packed club where L&T and the audience are having such a blast, their joy of performance is palpable. They've never even heard of Eddie Vedder when he chooses them to do an encore with Pearl Jam at Summerfest, the huge Milwaukee music festival. That's when they had the audience of 30,000. Backstage, Lightning tells Eddie he doesn't think it's a Neil Diamond kinda crowd. But Vedder is no superstar snob and joins them onstage, sits on a box, and reads the lyrics while singing "Forever in Blue Jeans." He makes it a Neil Diamond crowd.
Lightning & Thunder fans would travel to hear them, but they never performed much further afield than Chicago. Nor did they make any recordings that iTunes has heard about. They were popular in Milwaukee, a friend explains, "because they were normal, and Milwaukee is normal." They lived in a normal house on a normal street with a normal van and a normal flagpole. It was the second marriage for both, and Thunder's kids Rachel and Dana lived with them. He had the Diamond haircut and sideburns, and a little more hair. She was on the plumpish side. Then the first car ran into their house, they had a setback, and both made a conscious decision to take up smoking to lose weight.
They didn't even drink. Lightning served in Nam as a "tunnel rat," crawling with a machine-gun into Cong tunnels. When he came home he became an alcoholic and heroin addict and it nearly killed him. They took home movies of him proudly holding his diploma from rehab. He never touched a drink or a drug for the next 30 years. They had the ability to inspire friends who dedicated themselves to their careers. One of their managers even turns out to be Lightning's dentist. Times got very rough for them, but they were always still in love, and still dreaming of that big break, even after their career was pretty much a memory. Not for them the 9 to 5 life.
One night over dinner at Denny's, Thunder asked Lightning if, since he knew so much about computers, he might be able to make a living on the internet. "Keep your eyes on the prize," he told her. They aimed for Vegas. I think they were dreaming of a main stage, which was unlikely A Neil Diamond tribute band from Milwaukee? Besides, Lightning never used the Neil Diamond name. He just sang the songs. In his mind, it was a tribute to Lightning & Thunder. He couldn't help how much he looked like guy. But if a booker had found the imagination to book them as a lounge act, I think they would have been wildly popular, compared to those insipid quasi-karoke acts. Maybe too popular. I'd walk away from blackjack to listen to them.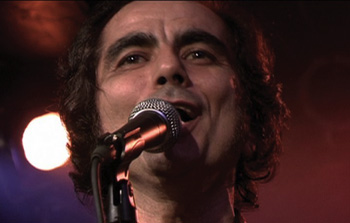 This documentary, directed by Greg Kohs, is a superb marriage of home movies, TV, clippings and posters, and concert footage. Kohs was doing some filming at a Harley-Davidson convention in Milwaukee (birthplace of the motorcycle) and came upon L&T performing for some wildly dancing bikers. He started shooting right then and there, and shot them for eight years, not knowing how his story would end. He apparently became so familiar he was the fly on the wall during family fights, triumphs and heartbreaks. L&T are strong people. There's a time when Thunder has every reason to quit her career, and she stays cheerful and carries on. Can't let Lightning down.
This kind of film, like "Hoop Dreams," is only possible when a filmmaker stakes a bet on an unknown outcome. I won't tell you how it ends, except that Eddie Vedder does something out of the blue that is simply astonishing, and shows genuine class. Stars do nice things for people all the time, but this is something that shows thoughtfulness and insight, and with no expectation that the world would ever hear about it.
And for Mike and Claire Sardina,
When all is lost there will be you.
Cause to the universe I don't mean a thing.
You can't see this film because it hasn't been picked up for distribution. It won both audience awards at Slamdance 2008 (the popular vote, and the juried award). It was named best documentary at the Chicago and Atlanta underground film festivals, and at the surface-level Boston, Philadelphia, Sydney, and Memphis festivals. Distributors, get your hands on a screener!
Cast & Credits
Lightning Mike Sardina
Thunder Claire Sardina
A documentary also featuring Rachel Cartwright, Dana Cartwright, Frances Stingl, Jim Stingl, Don Dardina, Bob Babisch, Tom D'Amato, Art Gompper, Dr. Dave Watson, Mark Shurilla, the Esquires, Ann Knackert, Angelina Sardina.
Corn Filmworks presents a film directed by Greg Kohs.
Running time: 87 minutes.
No MPAA rating.