Roger Ebert
Legacy is the story of how a family from a Chicago housing project, devastated by the murder of a 14-year old relative, was able to break the cycle of welfare and make a new beginning.
Five years ago the Chicago media gave great attention to the death of Terrell

Collins, a 14-year-old honor student who was senselessly killed by another child with a gun. Terrell had been chosen by documentarian Tod S. Lending, as the subject of a film about a young man from the tough Harry Horner housing project who was headed to a private school on a scholarship.
"I did the first filming one morning," Lending recalls, "and two hours later I got a call that Terrell had been shot."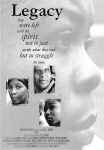 click for larger image
He filmed the funeral, and then kept on filming, focusing on Terrell's extended family. His narrator became Nickcole Collins, about Terrell's age, and in the film she introduces us to her grandmother Dorothy, her mother Alaissa and her aunt Wanda, who was Terrell's mother. Theirs was a three-generation welfare family, with Dorothy as the rock of support. Wanda, a drug addict, had six children out of wedlock, and Alaissa had five. No fathers were still in the picture.
In a strange sense, Nickcole tells us, the death of Terrell acted as a catalyst. He was the family's great hope, the straight-A student who was their shining light. When he died, the family decided in some deep unspoken way, to try to pull itself together and get off welfare. It is not easy. In a Catch-22, Alaissa loses a job because she can't attend training sessions without leaving her children untended; welfare won't provide child care until she gets the job.
But by the end of five years, Nickcole, a student at Northern Illinois University, is able to report that her mother is teaching kindergarten, her aunt is clean and sober, her grandmother has bought her own home - and the hated Harry Horner project has been torn down. It is an inspiring story and a moving film.