BODY AND SOUL
Release Date: 1925
by Chaz Ebert, RogerEbert.com
"Fans of silent cinema in Chicago have a treat in store for them on Thursday, October 1st, 2015. Trailblazing filmmaker Oscar Micheaux's 1925 silent feature, "Body and Soul," will screen with a live orchestra performing a brand new jazz score by composer Renee Baker, as part of the Black World Cinema Film Series. This film marks the debut of actor Paul Robeson, best known for his unforgettable performance of "Ol' Man River" in 1936's "Showboat." He stars in a dual role as a wicked preacher and his righteous brother, two ideologically opposed siblings whose rivalry reaches its peak once they set their sights on a particularly lovely member of the congregation.
In anticipation of this exciting event, I spoke with Baker as well as Black World Cinema curator Floyd Webb for this exclusive two-part interview.
PART I: CONVERSATION WITH FLOYD WEBB
How did this screening come about?
I have always loved silent film. When I was a child living in the Ickes Projects, they were plentiful on WTTW and even WGN. It [led to] my first real curiosity regarding film as artistic expression—no sound, but lots of emotion in movement and gesture, in music and editing, and human expressions. As I watched foreign films on WTTW, I noticed how the Italian Neo-Realists continued to use silent film techniques within sound films. African-American John Kitzmiller played a role in the film "Senza Pietà" (1948), partly written by Fellini, and the music in that film [that accompanies] his love affair with an Italian girl haunts me to this day.
I went to the AACM School of Music and have known a lot of the AACM Members since the late 1970s. It was during my association with composers like Edward Wilkerson that I started thinking about doing programs like this in the mid 1980s. I was directing the Blacklight International Film Festival in partnership with Richard Pena, who was then head of the Film Center of the Art Institute. "Within Our Gates" had recently been found in the Spanish Film Archives. It took several years but I, with Richard's help, finally obtained a copy when it was placed with the Library of Congress. My friend Edward Wilkerson had a dynamic Octet called 8 Bold Souls and I asked him to write the track and to feel free to improvise their tails off within the composition. I wanted something different. "Within Our Gates" returned to Chicago for the first time in 70 years at the Film Center on Columbus Drive before a sold out audience in 1991.
A few years ago, I was working with the Great Black Music Project's director, the late Godfrey Mason. We had contracted Nicole Mitchell to do a track for Micheaux's Body and Soul. I have done visualizations for Nicole's compositions, one was for her project Xenogenesis Suite: A Tribute to Octavia Butler. Nicole was too busy and she directed me to Renee Baker, who was rehearsing the Chicago Symphony and working with the Chicago Modern Orchestra Project.
We have two more projects planned. She is going to score Micheaux's lesser known "Symbol of the Unconquered" and help me with a personal project utilizing Renoir silent film, "Sur Air un de Charleston" (1928).
Who decided to add the Chicago Modern Orchestra to accompany the film?
Renee Baker brought the Chicago Modern Orchestra Project. She essentially did the score for "Body and Soul" as part of a School project. I only expected a recording!

Can you give us a bit more info about the orchestra? Will this be a silent film series/Orchestra series?
Or just one event?
I would like to do this as often as possible. Edward Wilkeron and bassist/filmaker Tatsu Aoki have been doing silent Japanese films. One of my former employers, Nitin Sawhney did a score for "A Throw of Dice" with the British Film Institute. It toured and even came here to Millennium Park. Theses are worthy projects to pursue. And a lot of people I know have a love and interest in how to explore contemporary music and arts to re-explore silent film.
I have been talking to Edward and Tatsu about doing the silent Chinese Wuxia (martial arts) film "Red Heroine," if I can get permission. I am going to always do this when I can. I love it. It is part of my essential PERSONAL film history.
What is the importance of holding it at the SMG Chatham theater?
I have been doing the Black World Cinema series at Chatham since May, 2005. I stopped doing the Blacklight Film Festival in 1994, I think. The Blacklight Film Festival of International Cinema was a rare event taking place from 1982-1995.
My mate and I had a kid and festivals are not money makers. Our funding was not steady and I really sort of "just did it." I knew Richard Pena at the Film Center, Brenda Webb and Joh Hoffman at Chicago Filmmakers when it was on Hubbard Street where I volunteered as a projectionist and made my own film. They helped me create the festival.
After 12 grueling years. I walked away from it and ended up in the UK working for a 3D animation and Multimedia company with David Allen, a former producer of the cure and for fine artist, David McKean on his early films for Neil Gaiman's "Mr Punch" DVD, and his own "The Week Before," shot prior to him directing "MirrorMask" for Sony.
I was asked by Alisa Starks, who then owned the theater, to do Black World Cinema there because the community wanted to see the films I screened at Blacklight. We opened to large audiences. I think it is important to maintain my relationship at Chatham with the new owners, Studio Movie Grill and keep bringing programs like this to the South outside of the usual formal institutions.
The audiences love to engage in compelling conversation after the films. These dialogues are just as important to them as seeing the film. They come armed with notebooks seeking references for what they have seen. They love the films I show. So do I.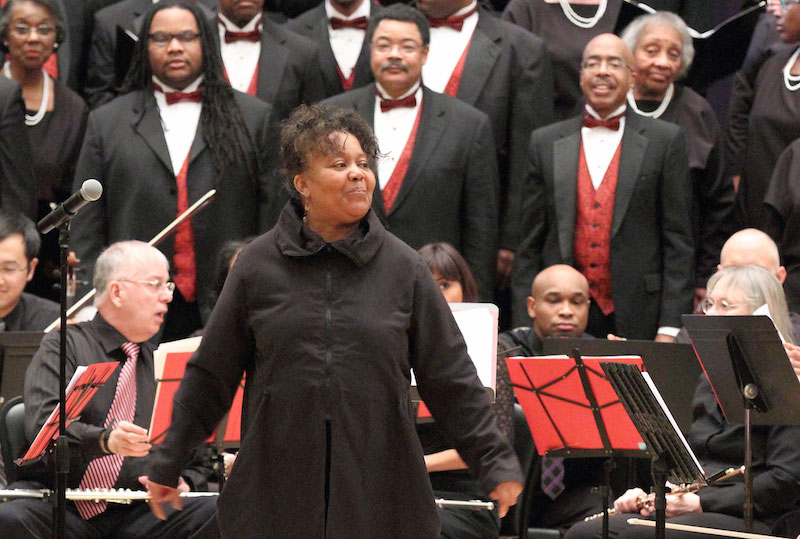 PART II: WORDS FROM RENEE BAKER
The screening came about when I contacted Floyd Webb about additional screening opportunities for my recently finished/produced score for "Body and Soul." I am a composer and also a music director of a full symphony in Chicago, the Chicago Modern Orchestra Project. My producer, Don DiNicola, had heard some of my music and suggested that we collaborate on this project.
I happen to be an African-American woman with a full orchestra that I formed in 2010. After marrying the music to this marvelous film, we discovered that we had given BNS what amounts to musical dialogue. So our approach was quite unique, giving voices to the characters and allowing them to establish sonic dialogues.
I premiered BNS in April 2015 at the Museum of Contemporary Art Chicago as part of their Creative Music Summit 2015 and as I happen to also be an AACM composer (Association of Advancement of Creative Musicians), I have a rich lineage to pull from—Muhal Richard Abrams, George Lewis, Henry Threadgill, Roscoe Mitchell, the Art Ensemble of Chicago. My large symphony, CMOP, is my answer to the third stream genre uniting the idioms of classical music, creative avant garde stylings and jazz.
Producer Don DiNicola and I have produced two creative works with BNS. One is the DVD we released independently on July 1st of a newly crafted score composed by me and performed by CMOP. That score has been married to the film and this new project with BNS involves a newly funded project by NewMusicUSA for the live full orchestra scoring and performance. This performance will take place on October 1st with the new score. There is only one performance scheduled with the full orchestra as of this moment.
So....an African American woman with a full symphony decides to become a film composer, attracts interest of producer Don DiNicola as mentor/collaborator/partner and off we go. Chicago Modern Orchestra Project is a marvelous vehicle to have and my backstory is that as an AA composer, I was not going to wait for others to perform my music. So along with many other small ensembles, I formed CMOP. Success is coming—I've had works premiered by Chicago Sinfonietta at Symphony Center and am currently working with orchestras and ensembles all over the country. I have also formed my chamber ensemble, PEK Contemporary Project, abroad in Berlin. CMOP has performed primarily in the Chicago area, but I have performed, and still do so, all over the world.
I encountered Floyd Webb as a film producer but knew of his affiliation with black world cinema, so I asked for an opportunity to expose Chicago audiences to my and the orchestra's work. Ironically, about 4 years back, Floyd approached me about scoring BNS with him but the project never materialized.
I know in this day it is easier to score and produce music with electronic samples, but when you have an orchestra at your disposal, I decided that using live accompaniment was the more ideal goal. Originally I was going to present the version of the movie that we produced for DVD, but how often in the black community does one get to see and hear a Micheaux masterpiece with a live orchestra? Chatham 14 is uniquely situated in a community/neighborhood setting with reasonable admission so that families et al can be introduced to the history of black cinema, the oeuvre of Oscar Michaeux and the current/future work of [myself], Don DiNicola and CMOP.
Floyd Webb and I are planning to do "Symbol of the Unconquered" by Micheaux in the coming months. Ultimatley I would like CMOP to produce scores for all discovered Micheaux films, possibly some Spencer Williams works and then branch out into other forgotten gems of the silent era. In January 2016, we are premiering "A Page of Madness" with my original score performed by CMOP at Dominican University.
The stand-out part of this, for me, is that the formation of a symphony in this socio economic climate may have been a dream but the ensuing dream of the production of "Body and Soul" validates that decision.