HE WHO GETS SLAPPED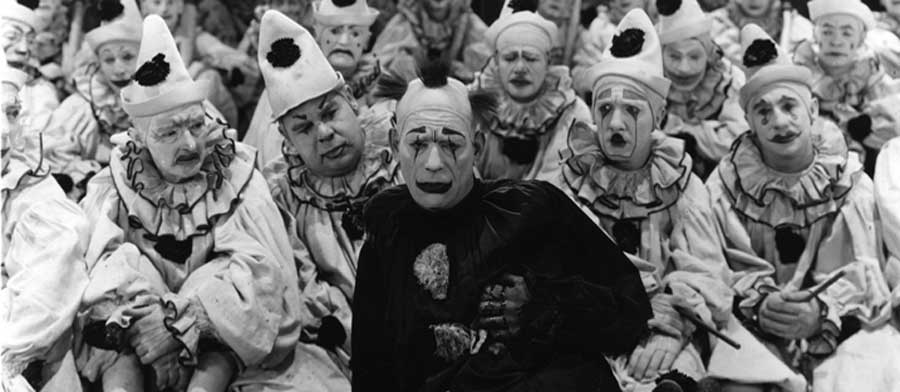 Release Date: 1924
by Thomas Gladysz and the San Francisco Silent Film Festival (2011)
Seeking a change of pace from his already successful career as a Swedish director and actor, Victor Sjöström arrived in New York in January 1923 at the invitation of Goldwyn Pictures. Sjöström's intention was to study American production methods and to involve himself in a film or two. The Swede never thought to stay in America for very long.
By the spring of 1924, however, when notable actors, directors, and producers gathered for a celebration of the merger of Goldwyn with the Metro and Mayer companies, Sjöström was in the thick of things. By then, he had anglicized his name to Seastrom and had directed Name the Man (1924), a popular and critically acclaimed film for Goldwyn. Admired by newly appointed MGM production head Irving Thalberg, Seastrom was chosen to direct the new company's first film—a prestige production on which the studio's fortunes rode. That film was He Who Gets Slapped.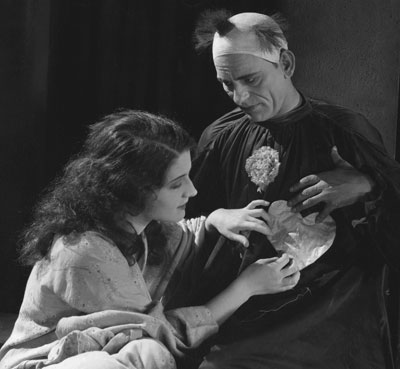 Leonid Andreyev's celebrated play, the basis for the script, was the last dramatic work by the celebrated Russian author whose stories had turned increasingly pessimistic. First published in 1914, the play had its premiere in the United States in 1922 at New York's Garrick Theater, where it enjoyed a six-month run and was widely reviewed. Alexander Woollcott, a founding member of the Algonquin Round Table wrote, "It has things in it that belong to the theater of all the world."
As an acclaimed European director at work in America, Seastrom (like Murnau and Lubitsch) enjoyed contractual privileges not usually granted to studio directors, including script approval, choice of cast, selection of cameraman and assistant director, and the right to supervise editing. Attentive to every facet of a film, Seastrom carefully considered the stories offered to him. Andreyev's symbolic work, with its existential themes, no doubt appealed to the émigré director.
He Who Gets Slapped is the story of a scientist whose happiness is destroyed by a friend who steals not only his wife but also the results of his life's research. The scientist turns bitter and, in desperation, joins a circus as a clown whose popular act is based on being repeatedly slapped. The clown, now known only as "He" (even his identity has been taken), is slapped whenever he attempts to speak and, with each slap, relives his personal and professional humiliation. Eventually, the clown finds redemption when he falls in love with another circus performer, a pretty young bareback rider named Consuelo.
Lon Chaney, a great success as a pathetic character in a previous Thalberg production, The Hunchback of Notre Dame (1923), was given the lead role as the disillusioned, masochistic clown. As with the hunchback, it was a choice role in a famous story. Canadian-born Norma Shearer, then an emerging actress, played the bareback rider. The role helped make her a star. John Gilbert, also on the brink of stardom, at first refused his part, thinking his role too small. In a recent interview, Leatrice Gilbert Fountain, the actor's daughter and biographer, said, "I heard about Jack's reluctance to play the role from several people. I believe the first was his friend Carey Wilson, who adapted the story for the film. He quoted Irving Thalberg to me, 'Jack, that part will do more for your career than anything you have done so far.' He Who Gets Slapped was a quality movie. Jack's part was small, but he glittered brightly in it and it did indeed move his career forward."
The supporting cast is likewise notable. Ford Sterling, one of the original Keystone Cops, plays Tricaud, a fellow clown, while veteran actors Tully Marshall and Marc McDermott each give memorable characterizations as the unsavory and scheming count and baron, respectively. Bela Lugosi, then a recent émigré from Hungary, is often said to have had an uncredited role as another clown, but no evidence has surfaced to support or refute the claim.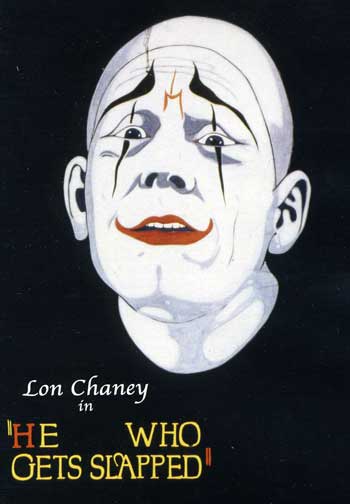 He Who Gets Slapped was in production between June 17 and July 28, 1924. It ran seven reels and, according to its copyright registration, featured amber-tinted sequences. He Who Gets Slapped was the first production of the newly formed MGM, but not its first release. The film was held back to benefit by a holiday release, opening on November 3, 1924, at the Capitol Theatre in New York City. MGM promoted its first release vigorously, if somewhat inaccurately, with a campaign that billed the film as a "big production of circus life." The film set a one-day world record with $15,000 in ticket sales, a one-week record of $71,900, and a two-week record of $121,574.
In its review, the New York Times described the film as "… a picture which defies one to write about it without indulging in superlatives … so beautifully told, so flawlessly directed that we imagine it will be held up as a model by all producers." One fan magazine, Movie Weekly, went further: "Occasionally an exceptional picture comes along which makes no attempt to pander to the box office. He Who Gets Slapped is one of this sort, an artistic masterpiece."
The success the film enjoyed in New York was repeated throughout the country. When it opened in San Francisco, critics were just as enthusiastic. The San Francisco Call and Post headlined its review by calling the film a "truly great photoplay," while the critic for the San Francisco Examiner wrote, "[the film] must be classed among the very best of the truly dramatic pictures." It was chosen as one of the top ten movies of the year by the Boston Post, New York News, New York Times, and Los Angeles Times, as well as Photoplay, Cine Mundial,Movie Monthly, and Motion Picture magazine.
Seastrom's seven years in the United States were productive and resulted in eight other highly regarded works, including The Scarlet Letter (1926) and The Wind (1928), both with Lillian Gish, as well as the now-lost Greta Garbo film The Divine Woman (1928).
With the coming of sound, however, Seastrom's career began to falter. The director, feeling out of synch with the quickly changing industry, decided to return home. He directed only a few more films and, for the next 15 years, continued to act both in movies and on the Swedish stage. At age 78, Seastrom—once again Sjöström—gave his final and probably best remembered performance as the elderly professor in Ingmar Bergman's Wild Strawberries (1957).
Today, some silent films are remembered for their historical importance, some for their artistic value, and still others because a particular actor or director played a role in their creation. He Who Gets Slapped, a singular and even profound work, possesses each of these cinematic virtues. It stands as one of the great films of the silent era.
Cast & Credits
Directed by Victor Sjöström
Lon Chaney (Paul Beaumont/"He Who Gets Slapped")
Norma Shearer (Consuelo)
John Gilbert (Bezano)
Ruth King (Maria Beaumont)
Marc McDermott (Baron Regnard)
Ford Sterling (Tricaud)
Tully Marshall (Count Mancini)