FILMMAKER GUESTS 2014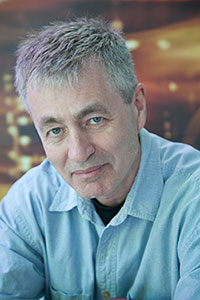 Life Itself
Wednesday, April 23, 7:30pm
STEVE JAMES is best known for directing Hoop Dreams, winner of every major critics prize including a Peabody and Robert F. Kennedy Award. Other acclaimed films include Stevie, which won the top prize at IDFA, major awards at Yamagata, Sundance and Philadelphia film festivals, was nominated for an Independent Spirit Award, and landed on a dozen year-end ten best lists; the IDA-winning miniseries The New Americans; At the Death House Door, which won numerous festival awards and was James' fourth film short-listed for an Academy Award®; No Crossover: The Trial of Allen Iverson for ESPNs Peabody winning 30 for 30 series; and The Interrupters, James' fifth film to premiere at Sundance, winner of the Independent Spirit Award, the two top Cinema Eye Awards and numerous festival prizes. It was the top documentary in the end-of-the-year national critics' polls for both IndieWire and the Village Voice, and recently was awarded the duPont-Columbia Journalism Award and an Emmy®.
Museum Hours
Thursday, April 24, 1:00pm
JEM COHEN's feature-length films include Chain, Benjamin Smoke, Instrument and Evening's Civil Twilight in Empires of Tin. His shorts include Lost Book Found, Amber City, Little Flags and Anne Truitt, Working. A New-York based filmmaker, his films are in the collections of NYCs Museum of Modern Art and Whitney Museum and have been broadcast by PBS, Arte and the Sundance Channel. He's had retrospectives at London's NFT, BAFICI, Oberhausen, Gijon, and Spain's Punto de Vista.

Recent projects include the Gravity Hill Newsreels (about Occupy Wall Street) and We Have an Anchor, a portrait of Cape Breton. He has collaborated with musicians including Fugazi, Patti Smith, Terry Riley, Godspeed You! Black Emperor, Gil Shaham/Orpheus Orchestra, R.E.M., Vic Chesnutt, and the Ex, as well as with writer Luc Sante.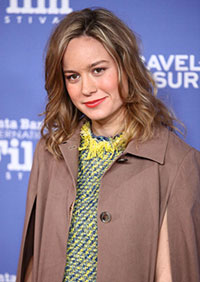 Short Term 12
Thursday, April 24, 4:00pm
BRIE LARSON has built an impressive career as one of the more versatile young actresses working today. Her performance as Grace, the director of a foster care facility, in Short Term 12, directed by Destin Daniel Cretton, garnered numerous 2014 best actress nominations. Her best actress wins included the Locarno Film Festival and the Gotham Awards, and she was nominated for a 2014 Critic's Choice Award.

The LA Times labeled her the "It Girl" of this year's SXSW® film festival with four films showing. In addition to Short Term 12 (which took home the Grand Jury prize and the Audience Award), she had supporting roles in The Spectacular Now, as well as Don Jon, Joseph Gordon-Levitt's directorial debut. Both films were also at Sundance and SXSX. Last year she was seen in 21 Jump Street, and received rave reviews for her supporting role in Oren Moverman's Rampart. Up next, Larson will star in The Gambler, slated to release in 2015. Larson is still widely recognized for her portrayal of Kate, Toni Collette's sarcastic and rebellious daughter, in Showtime's United States of Tara. Other notable credits include Scott Pilgrim vs. the World, and Noah Baumbach's Greenberg. She has appeared on stage at the prestigious Williamstown Theater Festival in the role of Emily in Our Town, and recurred on the F/X cult favorite series, The League.

In addition to acting, Larson is a writer and director. Her short film, The Arm won the prize for Best Comedic Storytelling at last year's Sundance Film Festival. The other Weighting was in competition at this year's SXSW® film festival.

A native of Sacramento, Larson started studying drama at the early age of 6, as the youngest student ever to attend the ACT San Francisco. Larson currently resides in LA.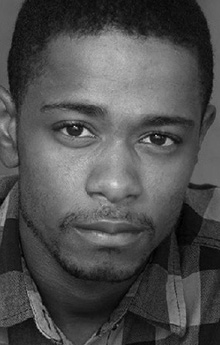 KEITH STANFIELD delivers a breakthrough performance in Short Term 12, written/directed by Destin Cretton, which premiered at SXSW® and won Audience and Grand Jury awards for best narrative feature. Stanfield plays Marcus, a teenager faced with the imminent threat of out-aging the foster system that the film is set in. Stanfield earned an Independent Spirit Award nomination for his role.
Stanfield's first on-camera role was in the short-film version of Short Term 12, which premiered at Sundance 2008 and led to the feature film. After an audition in Cretton's own living room that left the young writer/director in tears, Stanfield was the only actor from the short film that was asked to reprise his role in the feature film. As evidenced by a scene in the film where Marcus opens up for the first time through a rap song that Stanfield and Cretton co-wrote, Stanfield is also a talented vocalist who raps in the group Moors.
Stanfield currently resides in the LA area and will be seen in Purge: Anarchy and in James Franco's Memoria.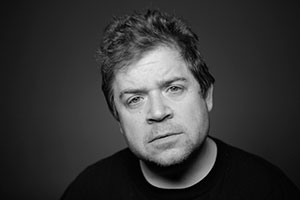 Young Adult
Thursday, April 24, 7:00pm
PATTON OSWALT continues to find success in all areas of entertainment, from his Grammy®-nominated comedy specials to many memorable guest roles on his favorite TV shows (including Parks and Recreation, for which he received a TV Critics Choice Award); to The Secret Life of Walter Mitty; and his starring role on Adult Swim's The Heart, She Holler. He is the narrator on ABCs breakout comedy The Goldbergs. Last year he was nominated for a Critics Choice Award for his brilliant performance in Young Adult. In 2009, Oswalt earned a Gotham Award nomination for his performance in Big Fan.
As a comedian, Oswalt is currently promoting his fifth television special Tragedy Plus Comedy Equals Time, adding to his four critically acclaimed albums, including Finest Hour (2012), which received a Grammy® nomination for best comedy album, as well as a one-hour Showtime special by the same name. In 2009, Oswalt received his first Grammy® nomination for his album My Weakness Is Strong, distributed through Warner Brothers Records.
In addition to his guest roles on Parks and Recreation, Justified, Two and a Half Men, Portlandia and Burn Notice, Oswalt also voiced characters on The Simpsons and Bob's Burgers. He was a series regular on Showtime's United States of Tara, appeared as a guest star on Bored To Death and Flight of the Conchords on HBO, The Sarah Silverman Program on Comedy Central, and the SyFy series Caprica. Oswalt was also a regular contributor to Countdown with Keith Olbermann, Real Time with Bill Maher and Lewis Black's Root Of All Evil. In 2009, Oswalt appeared in Steven Soderbergh's The Informant, and Observe and Report with Seth Rogen.
Oswalt provided the voice for Remy the rat in Pixar's Oscar®-winning Ratatouille, and characters on Word Girl and Neighbors from Hell. He has appeared in more then 20 films including Magnolia, Starsky and Hutch and Reno 911!: Miami. He starred in The Comedians of Comedy, which was shot as an independent feature film, a TV series and a long-running tour.
Oswalt tours regularly and extensively, headlining both in the US and UK, and is a regular at music festivals like Bumbershoot, Bonnaroo, Comic-Con and Coachella. He also has a regular bi-monthly show at the new Largo at the Coronet Theater in LA.
On TV, he played Spence on The King of Queens on CBS for nine seasons and appeared on Seinfeld, Reaper, Aqua Teen Hunger Force and Tim and Eric's Awesome Show, Great Job!
Oswalt's first published book, Zombie Spaceship Wasteland (2011) was a NY Times bestseller.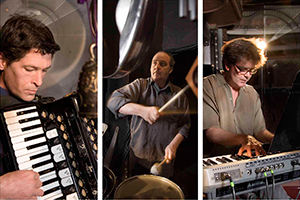 He Who Gets Slapped
Friday, April 25, 1:00pm
ALLOY ORCHESTRA is a three-man musical ensemble, writing and performing live accompaniment to classic silent films. Working with an outrageous assemblage of peculiar objects, they thrash and grind soulful music from unlikely sources. Performing at prestigious film festivals and cultural centers in the US and abroad (The Telluride Film Festival, The Louvre, Lincoln Center, The Academy of Motion Pictures Arts and Sciences, the National Gallery of Art and others), the Alloy Orchestra has helped revive some of the great masterpieces of the silent era.
An unusual combination of found percussion and state-of-the-art electronics gives the Orchestra the ability to create any sound imaginable. Utilizing their famous "rack of junk" and electronic synthesizers, the group generates beautiful music in a spectacular variety of styles. They can conjure up a simple German bar band of the 1920s or a French symphony. The group can make the audience think it is being attacked by tigers, contacted by radio signals from Mars or swept up in the Russian Revolution.
Terry Donahue (junk percussion, accordion, musical saw and banjo), Roger Miller (synthesizer, percussion) and Ken Winokur (director, junk percussion and clarinet).
Capote
Friday, April 25, 4:00pm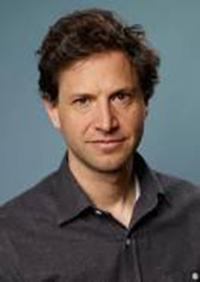 BENNETT MILLER is an Academy Award® nominated film director and producer best known for Moneyball and Capote.
Miller's most recent feature, Foxcatcher, tells the story of Olympic Gold Medal-winning wrestler Mark Schultz (Channing Tatum) and the self-destructive spiral he is driven to after moving to the estate of eccentric multi-millionaire John du Pont (Steve Carell) to train for the 1988 Seoul Olympics. Based on actual events, Foxcatcher is a gripping and profoundly American story of fragile men who pin their hopes for love and redemption on a desperate obsession for greatness.
Moneyball (2011) chronicles the story of the 2002 Oakland Athletics baseball team and its general manager Billy Beane. The film received substantial critical praise, and went on to receive 6 Academy Award® nominations, 4 Golden Globe® nominations, and 2 Screen Actors Guild awards nominations, in addition to nominations from AFI, BAFTA, PGA and WGA.
Miller earned an Academy Award® nomination for Best Director for the 2005 drama Capote, starring Philip Seymour Hoffman in his Oscar®-winning performance as Truman Capote during the research of his groundbreaking true crime novel, In Cold Blood. For Capote, Miller also earned a nomination for BAFTAs David Lean award for direction, and a Directors Guild of America nomination for outstanding feature directorial achievement.
Miller made the acclaimed 1998 documentary-portrait The Cruise about New York City tour guide Timothy "Speed" Levitch. The film garnered considerable critical praise and notable awards, including the top prize of the International Forum at the Berlin Film Festival. The film was released theatrically by Artisan Entertainment and was released on DVD by Lions Gate Films.
Do The Right Thing
Friday, April 25, 8:30pm
SPIKE LEE is a writer-director, actor, producer, author and educator who has helped revolutionize modern Black Cinema. Lee is a forerunner in the 'Do It Yourself' school of independent film. Lee is currently in post production on the Kickstarter-funded Da Blood of Sweet Jesus. Prior to this, he released Oldboy, his reinterpretation of the Korean psychological thriller, and Mike Tyson: Undisputed Truth, a videotaping of Mike Tyson's Broadway show.
An avid Knicks fan, Spike began hosting a one-hour bi-weekly sports talk, Spike Lee's Best Seat In Da House show featuring discussions on various news and topics concerning basketball and the NBA in January 2014. Lee received a Peabody Award for the Documentary If God is Willing and Da Creek Don't Rise, which revisits the storm-ravaged Gulf Coast region as residents attempt to rebuild in their cities, while also demanding assistance and accountability from their political leaders. Recent critical and box office successes include such films as Inside Man, 25th Hour, The Original Kings of Comedy, Bamboozled and Summer of Sam. Lee's films Girl 6, Get on the Bus, Do the Right Thing and Clockers display his ability to showcase a series of outspoken and provocative socio-political critiques that challenge cultural assumptions, not only about race, but also class and gender identity.
Lee began teaching a course on filmmaking at Harvard in 1991, and in 1993 he began as a professor at NYUs Tisch School of the Arts Graduate Film Program, where he received his MFA in Film Production. In 2002 he was appointed the Artistic Director of the Graduate Film Program. Lee has combined his extensive creative experience into yet another venture: partnering with DDB Needham, he created
Spike/DDB
, a full-service advertising agency.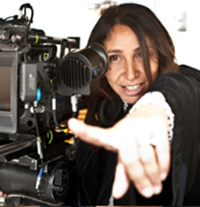 Wadjda
Saturday, April 26, 11:00am
HAIFAA AL-MANSOUR is the first female filmmaker of Saudi Arabia and is regarded as one of its most significant cinematic figures. She finished her BA in Literature at the American University in Cairo and completed her MFA in Directing and Film Studies from the University of Sydney.
The success of her three short films, as well as the international acclaim of her award-winning 2005 documentary Women Without Shadows, influenced a whole new wave of Saudi filmmakers and made the issue of opening cinemas in the Kingdom a front-page discussion. Within the Kingdom, her work is both praised and vilified for encouraging discussion on topics generally considered taboo, like tolerance, the dangers of orthodoxy, and the need for Saudis to take a critical look at their traditional and restrictive culture.
Through her films and her work in TV and print, Al Mansour is famous for penetrating the wall of silence surrounding the sequestered lives of Saudi women and providing a platform for their unheard voices.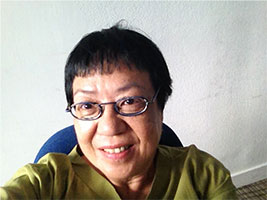 A Simple Life
Saturday, April 26, 2:00pm
ANN HUI was born in China in 1947 and moved to Hong Kong when she was still in her youth. After graduating in English and Comparative Literature from Hong Kong University, she spent two years at the London Film School. Returning to Hong Kong, she worked as an assistant to director King Hu before joining TVB to direct dramatic series and short documentaries. In 1977 she produced and directed six films for the ICAC, and in 1978 she made three episodes for the RTHK series Below the Lion Rock, followed by her debut feature film, The Secret (1979). Since then, she has directed 24 feature films including Boat People (1982), Summer Snow (1995), Song of the Exile (1990) and The Way We Are (2008).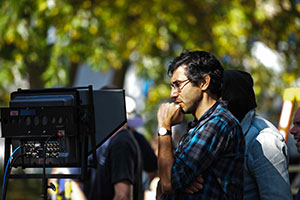 Goodbye Solo
Saturday, April 26, 5:00pm
RAMIN BAHRANI has won numerous awards for his films, including the FIPRESCI Prize for best film for Man Push Cart (London 2005) and Goodbye Solo (Venice 2008); the "Someone to Watch" Independent Spirit Award for Chop Shop (2007); and he was the recipient of a Guggenheim Fellowship. He collaborated with Werner Herzog on his short film Plastic Bag and directed a music video for Sigur Rós as well as several commercials. His last film At Any Price (Dennis Quaid, Zac Efron) was nominated for the Golden Lion at The Venice Film Festival (2012) and was released by Sony Pictures Classics. He is currently in post production on his new film 99 Homes (Andrew Garfield, Michael Shannon, Laura Dern) and is finishing his first documentary.
Bahrani is a professor of film directing at Columbia University's graduate film program in NYC.
Born on the Fourth of July
Saturday, April 26, 9:00pm
Academy Award® winning OLIVER STONE has written and directed over 20 full-length feature films, among them some of the most influential and iconic films of the last decades. Some have been at deep odds with conventional myth—films such as Platoon (1986), the first of three Vietnam films; JFK (1991); Natural Born Killers (1994); Nixon (1995); and World Trade Center (2006).
Stone's films have often reached wide, international audiences and have had significant cultural impact. These include Salvador (1985), deeply critical of the US Government's involvement in Central America; Wall Street (1987), a critique of America's new capitalism; Born on the Fourth of July (1989), criticizing US involvement in Vietnam (for which Stone won a third Academy Award®); and The Doors (1991), about the 1960s and its music.
His other films include Any Given Sunday (1999), an unconventional view of the world of American sports; an epic historical drama Alexander (2004, Final Cut Version 2007); W. (2008), a satirical view of George W. Bush; and Wall Street: Money Never Sleeps (2010), a sequel to the original, which deals with the 2008 financial crash.
In a series of crime-related films, Stone has, in addition to Natural Born Killers, directed U Turn (1997) and Savages (2012), none of them conventional in their approach to their subject.
His written screenplays, though not directed, gave him an early taste of the controversial nature of his ideas. An uproar greeted Midnight Express (1979), which only grew with Scarface (1983). He also wrote Year of the Dragon (1985) and Conan the Barbarian (1982). He has produced or co-produced a dozen films including The People vs. Larry Flynt (1996), Joy Luck Club (1993) and Reversal of Fortune (1990). 
His documentaries include three on Fidel Castro (Comandante (2003), Looking for Fidel (2004) and Castro in Winter (2012)) and one on South America, South of the Border (2009), prominently featuring Hugo Chavez and six other Presidents in a continent undergoing huge social changes. He also made Persona Non Grata (2003) on Israel-Palestine relations.
His latest work The Untold History of the United States (Showtime, 2012), five years in the making, is a monumental 10-hour interrogation of the conventional triumphalist narrative of US history.
Stone was born September 15, 1946 in NYC.  He wrote a novel at 19—A Child Night's Dream—about his youth, which was published in 1997 by St. Martin's Press. He served in the US Army Infantry in Vietnam in 1967-68 and was decorated with the Bronze Star for Valor.  After returning from Vietnam, he completed his undergraduate studies at NYU Film School in 1971, where he made several short films. He has also worked as a taxi driver, merchant sailor, messenger, advertising salesman, and production assistant on porno films and others.
Bayou Maharajah
Sunday, April 27, 12:00pm
LILY KEBER is a filmmaker and educator based in New Orleans. A graduate of the University of Georgia, Keber learned filmmaking at the International Film & Television Workshops in Rockport ME. During the summer of 2007, she co-directed Hutto: America's Family Prison, a short film on the Department of Homeland Security's policy of family detention. Keber is a co-founder of New Orleans Video Voices, a women-led media collective dedicated to expanding media literacy across the Gulf Coast. Her work has appeared on Democracy Now!, GritTV with Laura Flanders, Current TV, Electronic Intifada and local PBS programming. Bayou Maharajah is her first feature-length film
NATE KOHN is a professor at the University of Georgia and Associate Director of the George Foster Peabody Awards, considered to be the highest award for electronic media. He is also Festival Director of Roger Ebert's Film Festival, hosted by Chaz Ebert. Dr. Kohn's credits as a producer include the Academy Award®-nominated Zulu Dawn starring Burt Lancaster and Peter O'Toole; the independent feature Somebodies, which premiered in competition at Sundance 2006; Rain, Bahamas' first indigenous feature which premiered at Toronto 2008 and on Showtime (2010); the feature film Bottleworld (2010); and the BET television series Somebodies (2008). He is author of Pursuing Hollywood: Seduction, Obsession, Dread (Alta Mira Press, 2006), and he is most recently producer on the feature-length documentary Bayou Maharajah: The Tragic Genius of James Booker, which premiered at SXSW® 2013.
HENRY BUTLER, considered the premier exponent of the great New Orleans jazz and blues piano tradition, is a ten-time Pinetop Perkins (formerly W.C. Handy) Best Blues Instrumentalist Award nominee. A rich amalgam of jazz, Caribbean, classical, pop, blues and R&B, his music is as excitingly eclectic as that of his New Orleans birthplace. Blinded by glaucoma at birth, Butler has been playing the piano since he was 6, and arranging, composing and performing professionally since he was 12.
Butler's sound has been influenced by the streets (he grew up in the Calliope Projects in New Orleans, has traveled the world, lived on both coasts and in the heartland); by studying with the greats (Alvin Batiste, Sir Roland Hanna, Professor Longhair and James Booker, among others); by institutions (Louisiana School for the Blind, Southern University, Baton Rouge and Michigan State University); and by his willingness to explore new boundaries and take risks. Butler has played almost every major club and festival in the US, as well as venues in Brazil, France, Norway, Italy, Japan, Australia and more. For over 40 years, he has conducted workshops and master classes through the US. He has also developed a camp for blind and visually impaired teen musicians, the subject of the 2010 documentary The Music's Gonna Get You Through.
Butler's photographs, exploring the sighted world's relationship with the flat representation image and its power, continue to be exhibited nationally and internationally and to appear in major newspapers across the US. He and his photographic work were featured in the HBO documentary Dark Light: the Art of Blind Photographers.

The most recent of Butler's many CDs is PiaNOLA Live, with works pulled from his rich archives—about his only possessions that survived Hurrican Katrina, which decimated his home and took his piano, Braille scores and all his recording equipment. Butler can also be heard on recordings by other musicians including Cyndi Lauper, Jeff Golub and Odetta, and on the soundtrack of HBOs Tremé, Season 2 (2012). Whether it's as a soloist or with his blues groups (Henry Butler and the Game Band, and Henry Butler and Jambalaya) or his traditional jazz band (Papa Henry and the Steamin' Syncopators), you're in for the ride of a lifetime!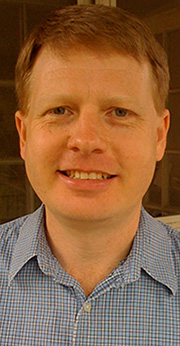 TIM WATSON is a documentary editor, writer, and producer in New Orleans. His work has been seen on PBS, the Sundance Channel, HBO and other networks in the US and Europe, and at many film festivals around the world. He edited and co-produced Campo to B.C. (2014); co-edited and co-wrote Bayou Maharajah (2013); co-produced and co-edited The Music's Gonna Get You Through (2010); was supervising producer and co-editor for Bury The Hatchet (2010); co-edited Walker Percy: A Documentary Film (2010); edited the series Taste Of Place (2010-11); did story development for and edited Vows of Silence (2008); edited Member Of The Club (2008); co-produced and edited By Invitation Only (2006); edited a documentary segment for HBO Comic Relief (2006); co-produced and edited A Player To Be Named Later (2005); co-produced and co-edited Desire (2005); edited and co-wrote Shalom Y'All (2002); and edited Ruthie The Duck Girl (1999). Through his New Orleans-based company, Ariel Montage, Watson has edited and facilitated many other documentary, narrative, and experimental projects over the past 18 years.