WADJDA
Release Date: 2012
by Oliver Lyttelton (October 10, 2012)
The cinematic revolution in the Middle East over the last few of decades, led principally by a generation of Iranian filmmakers who've flourished creatively despite restrictions placed on them by the regime, hasn't necessarily carried over to every region. Saudi Arabia, for instance, is hardly known for its cinema, which isn't especially surprising, given that movie theaters were banned in the country 30 years ago.
But things have been loosening up a little: theaters started to reopen around 2005, and six years ago, "Keif al-Hal?" was billed as the first-ever Saudi film (although mostly shot in the United Arab Emirates, and available only on pay-per-view in the nation), and a few others have subsequently followed. But "Wadjda" is reportedly the first film to be made entirely within the country, and even more unexpectedly, it's a film by a first-time female filmmaker, Haifaa Al-Mansour, in a country where women cannot drive or vote (the latter is set to change in 2015), and men and women have to be segregated in public. Most remarkably of all, it's all one of the best films of the year.
The title of "Wadjda" refers to its central character, played by 12-year-old actress Waad Mohammed. Wadjda is more rebellious than most around her; she makes mixtapes of forbidden music, wears battered Converse to her school, and, a born hustler, sells home-made football bracelets to classmates, all incurring the wrath of headmistress Ms. Hussa (Ahd). More than anything else, she wants a bike to race her friend Abdullah (Abdullrahman Al Gohani) on, but the 800 riyal price of the bike she covets seems out of reach, until it's announced that her school's Koran-recitation competition carries a 1000 riyal prize. As she ekes closer to it, however, things start to fall apart at home, as her mother (Reem Abdullah), who's unable to have more children, begins to fear that her mostly absentee husband (Sultan Al Assaf) is on the lookout for a second bride.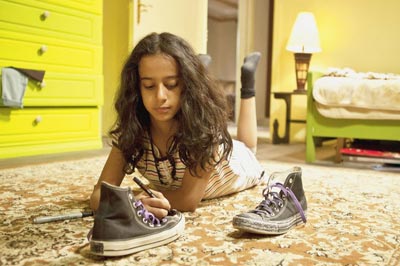 The word 'bicycle' instantly summons up images of a certain Italian neo-realist classic, and that's certainly the kind of neighborhood that Al-Mansour is in here, with a simple pristine style that mostly gets out of the way of the story, and a touching humanism that's reluctant to paint any of her characters as pure hero or villain (even the strict, humorless Ms. Hussa is given more texture than you'd expect).
There is one major hero, of course: Wadjda herself, who in the hands of Mohammed is one of the most memorable on-screen protagonists in some time. Essentially fearless, smarter than everyone else around her, and conning her way around Riyadh, it's the showcase of a terrific performance by Mohammed (whose parents will apparently only let her act until she's 16); the young actress owns every second she's on screen. She's not alone, though; while some performances are raw and a little rough around the edges, there are a few other standouts, not least from Abdullah. The two carve out a rare and complex mother/daughter relationship that feels entirely authentic, in both the conflicts and the moments of bonding.
It's appropriate that the two are the film's standouts, because it's so much a film that's about the role of women in a man's world. Wadjda is constantly told what she can't do -- ride a bike, uncover her face, follow her own path. Her mother, focused almost entirely on pleasing her husband yet unable to bear sons, is forced to consider buying a dress she can't afford to keep her husband's attention. And at school, Ms. Hussa (who might have her own secrets) expels one girl for being caught with a boy, and reads too much into the friendship of two others. Al-Mansour never overeggs this stuff, but it's omnipresent, constantly brewing away in the background, and in a world where an independent-minded 14-year-old girl can be shot by the Taliban, it's a vital thing to be putting on the agenda.
This makes the film sound rather dry, and it's not at all; there's enormous warmth and comedy, and a fine observational eye of a world that's pretty alien to Western audiences, which makes it consistently fascinating. Al-Mansour knows she has to play the audience like a fiddle (the Koran competition near the end is nail-bitingly tense), and yet it feels honest, rather than manipulative. As with last year's "A Separation," which it shares some surface similarities with, much of it is down to a watertight, hugely satisfying screenplay, written by the director.
The film doesn't sugarcoat the situation in Saudi Arabia -- far from it -- but by the end, it makes clear in that in the likes of Wadjda, there are real hopes for progress and change in years to come. That it manages to do so in such a technically adept way (much of the production team are German), with such clarity of storytelling, and is able to do with humor, emotion and smarts, is something close to a miracle.
(Review from Indiewire)
Cast & Credits
Director Haifaa Al Mansour
Screenplay Haifaa Al Mansour
Mother Reem Abdullah
Wadjda Waad Mohammed
Abdullah Abdullrahman Al Gohani
Hussa Ahd
Father Sultan Al Assaf