BLANCANIEVES
By Roger Ebert
It's too soon to declare a trend, but a new silent film once again seems likely to become a success in the fall movie season. "Blancanieves," a striking new Spanish feature, premieres here Monday at the Toronto Film Festival. Although the story draws on the Brothers Grimm and the legend of Snow White, it is anything but a children's film. It is a full-bodied, visually stunning silent film of the sort that might have been made by the greatest directors of the 1920s, if such details as the kinky sadomasochism of the Evil Stepmother could have been slipped past the censors.
The delightful "The Artist," which slipped away with this year's Academy Award for best picture, cheated a little by having tongue-in-cheek fun with its silence, and even allowing a few words to sneak in. Pablo Berger's "Blancanieves" exploits the silent medium for its strengths, including the fact that it can so easily deal with fantasy. This is as exciting, in many of the same ways, as the greatest traditional silent masterpieces. It's a Spanish film, but of course silent films speak an international language.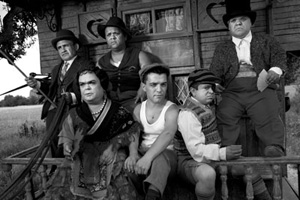 The story opens with a famous matador, Antonio Villalta, who is filled with swaggering ego. All goes wrong for him. He is paralyzed in the ring, and his beloved wife dies in childbirth. Their daughter, Carmen, is raised by her grandmother until Antonio unwisely marries the heartless Encarna, who wants only his money, ignores him in a wheelchair in his room, and adopts Carmen only to give her a room in the barn and put her to work at hard labor. Encarna, meanwhile, dominates her male assistant in classic boot-and-whip style, and Carmen is able to sneak into the mansion and bond lovingly with her father.
Carmen is forced to escape, wanders in the forest, and is discovered by a troupe of dwarves who travel between cities staging bullfights. They name her Blancanieves, Spanish for Snow White. When one of them is wounded during a fight, she leaps into the ring and distracts the bull, using matador skills she learned from her father. Eventually she, too, becomes a famed matador.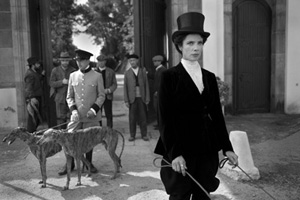 This film is a wonderment, urged along by a full-throated romantic score. Blancanieves is performed lovably by the angelic Sofía Oria when she is a child, and as an adult Macarena García. As with "The Artist," I believe audiences will discover they like silent films more than they think they do. The silents offer experiences and dimensions different from talking pictures. I believe "Blancanieves" has a fair shot at the festival's all-important Audience Award.
The film doesn't yet have an American release date.
Running Time: 104 min
Rated PG-13 for some violent content and sexuality